We regularly add new blogs on topical issues from staff across health and social care.

Review and add your comments – do you agree? disagree? why? how could it be better?

Select 'subscribe' to receive notifications when a new post goes live

Categories

There have been multiple major reports recently recognising that doctors want the way they work to be different. The foundation programme career destination report 2017 showed that only 42.6% of F2s progressed directly to specialty training. The latest GMC report on training pathways reveals that the 3 most common reasons for not entering training are:
dissatisfaction with the training environment
health and wellbeing
uncertainty about specialty choice or career direction
Feeling some of the above, I thought about Australia, I thought about a masters, I thought about travelling, and I briefly considered training. But really, I wanted to dedicate time developing clinically in a trust I already enjoyed working in, while also having the opportunity to have paid time working on quality improvement, research and teaching – and to continue to live in a city and flat I love, to boot.
Fortunately, such a job exists… Reflecting on my short- and long-term personal and career aims I applied for one of the 12-month clinical fellow posts at Brighton and Sussex University Hospital Trust (BSUH) established by emergency department consultant Dr Rob Galloway (@DrRobGalloway) and the team.
14 months and a further reapplication later, I feel I couldn't have made a better choice. I chose working for an organisation and department that values me and treats my work and life with equal high importance. I chose fully integrating within a team, making friends, and work colleagues who enrich my life personally and professionally.
I also chose being part of an engaged group of doctors full of quality improvement ideas who, with our split clinical and non-clinical posts, have the time and resource to effectively implement them. Through this post I have been able to support significant and lasting changes within the trust and region, be involved in award-winning improvements having national recognition, such as our single clerking and acute floor model, and learned skills that have opened doors to opportunities I didn't know existed.
Rotas don't have to stay the same as they have always been. Our shifts are designed ergonomically, gradually adjusting your body clock – from early, to late, to night. Your annual and study leave is guaranteed. If you want to get married in June next year and have 2 weeks off after, you can. Flexibility and cover is built into the rota, so sickness and absence has less of an impact. A large pool of doctors as fellows makes swaps for study and annual leave much easier and just a simple Whatsapp away. Moreover, we have no locum spend and no rota gaps. For the registrars and consultants, we use innovative software called Health Rota, which makes self-rostering and preserving work–life balance much easier.
Valuing doctors with jobs and rotas that respect and cultivate their personal and professional needs keeps us refreshed and motivated to keep working long term for the NHS, not only benefitting the staff but also the patients within it.
We have just been featured by the British Medical Association as an example of best practice as part of their medical rota gaps campaign and feature. Our video lets you hear more about our experience, and more detailed information is on NHS Improvement.
We need a change in culture and how our employers, regulators and educational bodies design how doctors work. Our fellow-posts and rotas at BSUH are an example of a growing resource of how we can do things differently and for the better for all doctors. We hope this is just the beginning of good things to come. Fourteen months ago I might have left the NHS, but now – provided practice like this is spread more widely – I am looking forward to the future.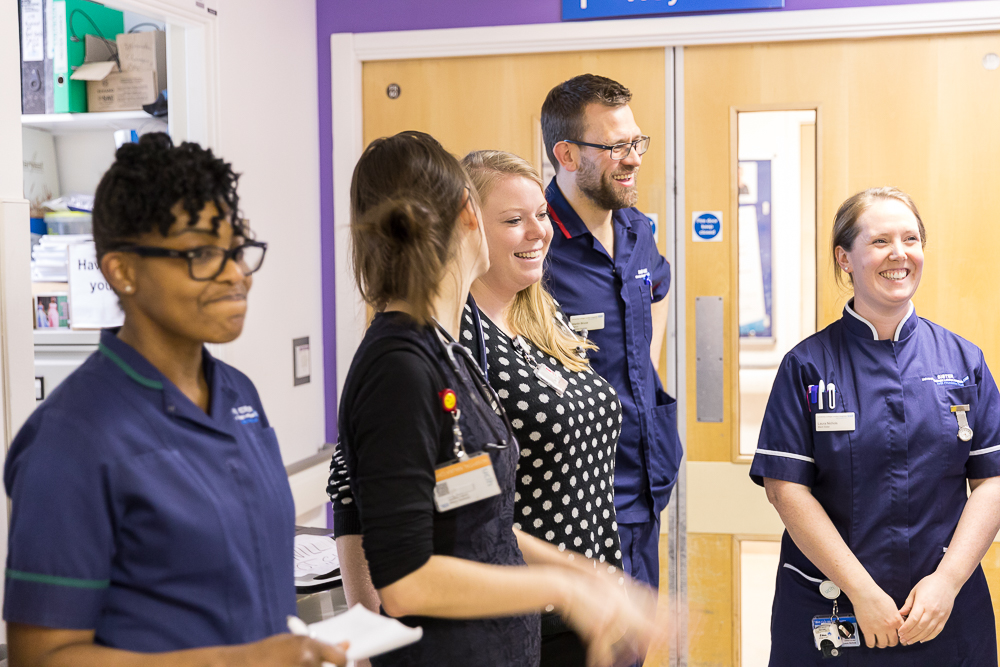 I registered as a pharmacist and started on the NHS Graduate Management Training Scheme (GMTS) in September 2017. I joined the policy & strategy stream in London and have worked in different areas within the NHS before and during the scheme.
Throughout my time in the NHS, I have experienced many teams and seen different levels of empowerment. To me, empowerment is about supporting people to do their best. While on the scheme as a graduate trainee, it can be very difficult to make an impact within the NHS as you are seen as a junior member of the team.
During most of my time in the NHS, I felt empowered by my colleagues and senior management to make an impact. For example, when working on a project alongside senior clinicians to improve patient safety on the wards, I noticed a gap in a different policy area which could also result in a compromise for patient safety, but was not part of the scope of the project.
I raised this with the management team and my team, who expressed much interest as no one had brought it to their attention before. The management team said they were happy if I were to run with this idea to see how it worked out and report my findings back to them. I enjoyed this, as I felt trusted and valued by my colleagues. I was the only person going to be working on this, but I didn't feel isolated as I knew I could knock on a colleague's door for help due to their open door policy.
In turn I have been able to bond with and develop meaningful respect for them, and feel comfortable discussing problems with them, knowing they will listen. My findings have shown that since I introduced my idea there's been a change in the way the service works that has had a positive impact on patient safety.
As part of the GMTS, I have developed personal mental techniques to empower myself, which I developed during the study days. Led by a facilitator, we confidentially discussed real-life problems and used a structured approach to help each another solve them. The technique has enabled me to enhance my leadership skills and become more strategic in the way I work, which makes me feel more confident about the decisions I am making.
To empower a team, the key is leadership, which through living the values, creates the culture. In my experience, there was a clear drive to be supportive of staff and help them do the best they can, allowing leaders to deal with barriers to delivering good patient care. The training from the GMTS provides the groundwork for good leadership that empowers all staff to move towards a vision and provide high quality care.
Load more